Image Goes here
Sigma Mixer/Kneader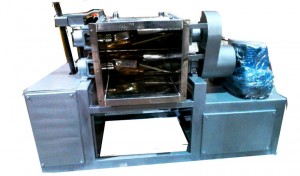 SURESH ENGINEERING WORKS introduces the most versatile, user friendly, heavy duty Sigma mixer giving optimum performance to the varied process application viz. Mixing, Kneading, Grinding, Dispersion, Drying etc.
Our SIGMA MIXERS find application in Industry manufacturing various products like Asbestos Packing, Two component adhesives, Brake Linings, Cork Wood, Ceramics, Confectionery, Carbon Black, Chemicals, Dyes & Pigments, Extruded Snacks, Papads, Food Products, Fibre Glass Reinforced Plastics, Lead Storage Battery, Paints & Coatings, Industrial Automotive Putties, Polymers, Plastics, Pharmaceuticals Surgical Bandage Adhesives, Printing Ink, Resins, Mosquito Coils, Modified Rubber, Soaps & Detergents, Thermoplastic & Thermosettings etc.
Machine Construction 
SIGMA MIXER as the name suggest consist of Sigma shaped twin blade fitted in 'W' shaped container. The 'W' shaped Container is made of Material of construction Mild steel, Stainless Steel grade 304 or 316. A jacket of Mild steel is provided on the outer side of the Container for heating or cooling as per the Process application. The Sigma Mixer container is also provided with a Lid, Simple or Air tight to get vaccum if needed. There are two mixing Blades of Sigma shaped casted and duly finished which contra rotates inside the container at different speeds. The shaft of the Blades are mounted on Four Bearing Housing with Gland Pusher support to the make the container leak proof ensuring longer life of the blades.
Drive
The Drive consist of Motor, Reduction Gear Box, Machine Cut Spur Gears, Coupling etc. The Reduction Gear of reputed make is coupled to the Driver Shaft on which Machine Cut Spur gear is fitted driving the second blade. The Gear Box is driven by Motor through 'V' Belt.
Stand
The SIGMA MIXER is mounted on Mild Steel fabricated stand of suitable strength to ensure Vibration and Noise free working of the Mixer.
Features
SIGMA MIXER is the most versatile machine to mix two viscous to high viscous material in powder-powder, powder-liquid or semi-liquid (paste) form. The two Sigma Blades of the Mixer contra roatates inwards in the container to achieve end to end movement of the material to be mixed ensuring uniform and thorough mixing in short time period. The Mixer container can be easily tilted manually or through Pinion and gear arrangement motorised for higher capacities. Heaters can be provided in the jacket as optional arrangement.We specialise in 2 Ltrs & 5 Ltrs Lab size Sigma Mixer with/without Heater & Vaccum arrangement or GMP
specification.
Standard Mixer – Design Feature
| | | |
| --- | --- | --- |
| Model | Capacity – Ltrs | Motor HP |
| SEW-02 | 2 | 0.5 |
| SEW-05 | 5 | 1 |
| SEW-25 | 25 | 3 |
| SEW-50 | 50 | 5 |
| SEW-100 | 100 | 7.5 |
| SEW-200 | 200 | 15 |
| SEW-300 | 300 | 20 |
| SEW-500 | 500 | 40 |
| SEW-1000 | 1000 | 60 |