Jacketed Reactor/Kettle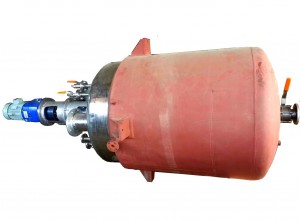 Is the basic Machinery used by Chemical Processing & Allied Industry. There are different types of Reaction Vessels broadly classified as Jacketed, Limpet Coil & Top Open type with or without Internal Cooling or Heating Coil as per the need of the Process.
We manufacture Reaction Vessel from 50 Ltrs to 30 KL in Material of construction Mild Steel, Stainless Steel SS 304 or SS 316.
Construction
Jacketed Reaction Vessel consist of a Cylindrical vertical shell with standard torospherical dish on both ends.
A jacket is provided on the Outside of the shell for Heating the reactor by passing steam or thermic Oil. or Cooling the reactor by passing cooling media. Stiffener Rings are provided on shell in between the shell and jacket to give uniform circulation of the heating or cooling media and to intensify the vessel.
Agitator assembly mounted on the Top dish of Reactor consists of Shaft supported by Lantern Assembly on the Top End containing Bearing Housing with Tapered roller bearing and Ball bearing to withstand impact load and vibratory load ensuring smooth rotation of the Shaft. Water cooled Stuffing box filled with gland rope pressed by Gland pusher is also provided.
On the other end of the shaft Blade is fitted of different types as per the need of the Process viz. Single Anchor, Double Anchor, Gate, Paddle, Flat or Curved Turbine & Propeller types. Baffles are also provided inside the shell as per the requirement.
Top Dish of the Reactor is provided with various Nozzles viz. Manhole, Light Glass, Sight glass, Vapour, Addition, Reflux, Thermowell etc.
Bottom Dish of the Reactor is provided with an Outlet nozzle where valve is fitted.
Drive
The drive is designed to give maintenance and trouble free performance. The Agitator Shaft is coupled to the Reduction Gear Box with Flexible coupling. The Reduction Gear Box is mounted on the Top of the Lantern Assembly and is driven by Motor using V belt pulley. Variator or AC drive can by used to get variable speed of the Agitator if desired.
Mounting
Four lugs support are provided on the Shell of the reactor to mount it on the Platform of the Factory. Platform can also be prefabricated and assembled at site.
Welding
Welding work is performed by Argon Arc process using Good Characteristic Filler rods on all S. S. Parts. M.S. Parts welding is performed by D. C Arc welding process using suitable electrodes of Advani Oerlikon make.
Finish
All weld joints will be finished from inside and outside, S S. Parts is cleaned from inside and outside. Two coates of primer / redoxide will be given on M.S. parts from outside.
Testing
Equipment are tested Hydraulically as per design Pressure.
Service
Complete after sales servicing is provide by our fully trained personnel.