Ball Mill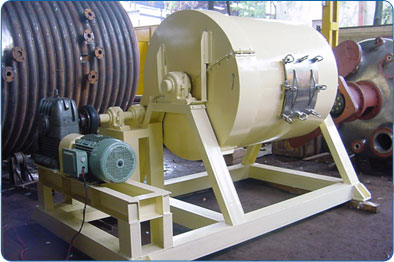 Ball mills are basically used for Particle reduction with the help of Grinding media. It consists of Cylindrical Shell made out of Mild Steel Sheet with or without lining of Steel or Rubber as per the application.
The End plates are so designed to make sturdy with stiffners so as to withstand the rotational load of the Loaded Ball Mill.
The Ball Mill is driven by pinion gear which drives the Ring Gear which is fitted on the Drum of the Ball mill. The Pinion gear is coupled to the Gear Box which is coupled to the Motor to ensure trouble free Performance.
Bolted Flange covers are provided on the square opening of the Ball mill for loading and discharge of the material.
Suresh Engineering Ball Mills are fabricated from Mild Steel, Rubber lined and Stainless Steel.
| | | |
| --- | --- | --- |
| Mills Size |  Container Capacity |   Motor |
|  20″ x 20″ |     100 ltrs |     2HP |
|  2′ x 2′ |     175 ltrs |      3HP |
|  2′-6″ x 2′-6″ |     325 ltrs |     5HP |
|  2′-6″ x 3′-6″ |     440 ltrs |     7.5HP |
|  3′ x 3′ |      590 ltrs |      7.5HP |
|  3′-6″ x 3′-6″ |     900 ltrs |     10 HP |
|  4′ x 4′ |     1400 ltrs |     15HP |
|  4′-6″ x 4′-6″ |     1600 ltrs |     20HP |